Vests – bad for cycling?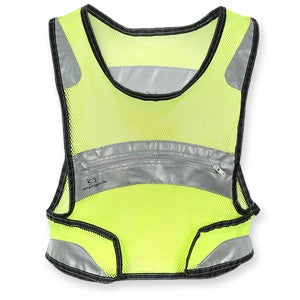 So …………………. the wife wants to get me this for a X-mas present.  And it's a nice vest, lightweight, and very reflective (here is the actual link to the product).  I have no doubt it would increase my visibility on the road.
But ….. is this bad for cycling?
By wearing this, am I announcing to the public that it is so risky to ride a bike that I must don special clothing in order to remain safe?  Is this the kind of message we want to send to people thinking about taking up riding — special gear is required?  And is this so different than having cyclists riding on sidewalks — again, sending a message to the public that this is where bikes belong?
On the other hand, why is it wrong to choose options that can lower the risk of not being seen and therefore possibly injured on a bike? 
One train of thought is about personal safety and how you feel, the other is about how cyclists are seen as a whole and how that affects all of us.
I don't know …….. do you have an opinion?