Combinations Cause Crashes — Situational Awareness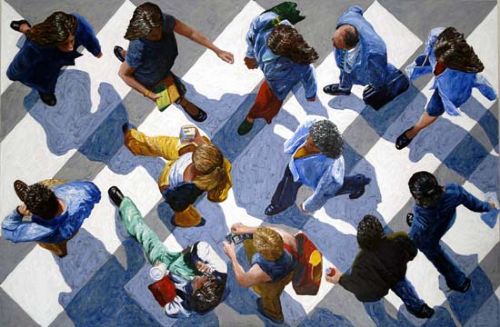 As I swerved to miss the pedestrian — who had stopped, started, turned, and then walked backwards at the intersection all without seeing me approach — I had all my attention on making sure I did not startle (or hit!) the person right in front of me.
What I forgot was to watch for turning cars.  And there was one.  Since both of us (the car driver and me) were watching the wayward pedestrian, we both didn't see each other entering the intersection.  Thankfully, we both were operating at such slow speeds that each was able to stop way before any crash would have occurred.
But this event triggered a thought in my head:  I didn't see the car because all my attention was on the pedestrian.  I wonder how many crashes are due to situations where there are more than two events happening at the same time?

Crash Statistics
Mighk has presented us with some wonderful crash statistics that breaks down bicycle crashes into nice categories.  But the categories are one-event situations (ie riding without lights, riding on the wrong side of the road).  I'm guessing (I hope Mighk will chime in on this) that it's difficult to present this data when multiple events are the reason for a crash.  But, it shouldn't be to hard for us to imagine some combination events — for example, riding on the wrong side of the road at night without lights.  And I bet if we could dig deeper, we'd uncover many other crashes where if there had not been a certain combination of events, it's possible there would not have been a crash.
Situational Awareness
I recall Keri talking about her training as an aircraft pilot …. that as part of their training, they look at airplane crashes and break down the events or actions that led up to the crash.  Typically, it was not one single event or action that led to the crash, but rather a combination of situations and mis-steps — a chain of events.  If any link of the chain could be removed, in most cases, there probably would not have been a crash.
Their training was to drill into their minds that even while dealing with an immediate event, it was critical not to lose what aviation trainers call "situational awareness" — awareness of everything else still going on around them.  If the focus is entirely on the situation (crisis) at hand, you might miss out on a new (important) development, or you might not fully realize how your actions dealing with this one situation might place you into another.
How to use
This seems like a good lesson for all of us who cycle to keep in mind.  Many of us are experienced enough that we can recognize developing situations and take appropriate actions to avoid an incident.  However, if our focus is strictly on the one situation in front of us, we might be missing out on something else developing around us.
One way this can happen is when something out-of-the-ordinary takes you out of your normal cycling mental state.  That's what happened to me when the pedestrian started acting funny.  I was mesmerized by the person's "dance" on the sidewalk as I was approaching them.  What I needed to do was while keeping an eye on the pedestrian to continue to scan around me and prepare for the upcoming intersection.
One technique I know about (used by some motorcyclists) is to talk out loud (but quietly) to yourself about what is happening around you.  Like this: "… ok, coming up to intersection, light is green for me but is a bit stale. Car behind me but I will clear intersection before they arrive … car on right side is stopped but has his turn signal on; make sure he doesn't pull out in front of me … going through light, all ok, car on right sees me, ahead all is OK except for that car parked on the side of the road, watch out can't see through his windshield to see if he is in there or not, might open door or pull out … car that was behind me turned off … ok, all clear until I get to the next light …"
I know that this seems over-burdensome to talk out loud, but many of you do this sub-consciously anyway.  It's a drill to try, and see if it makes you more situationally aware.
Perhaps some of you have other techniques you use, I'd love to hear what they are.
Anyway, as has been pointed out numerous time here, riding a bike is safe.  Safer than almost any other form of transportation.  But accidents (crashes) can happen, and it's always good to know why.  As we get more experienced in our riding, we learn to eliminate the "one issue" causes of a crash.  But remember that a crash can be a sum or combination of several issues … and thus it helps if we can remain situationally aware even while dealing with what's right in front of us.
http://commuteorlando.com/wordpress/wp-content/uploads/2017/09/logo_Commute_Orlando-webhead-650x214.png
0
0
andrewp
http://commuteorlando.com/wordpress/wp-content/uploads/2017/09/logo_Commute_Orlando-webhead-650x214.png
andrewp
2009-11-21 21:35:41
2009-11-21 21:36:25
Combinations Cause Crashes — Situational Awareness